PRESTIGE CREATIONS CO.,LTD., A Factory Dedicated To Manufacture Luxury Invitations, Bags & Boxes
Our Location In Chiang Mai, Thailand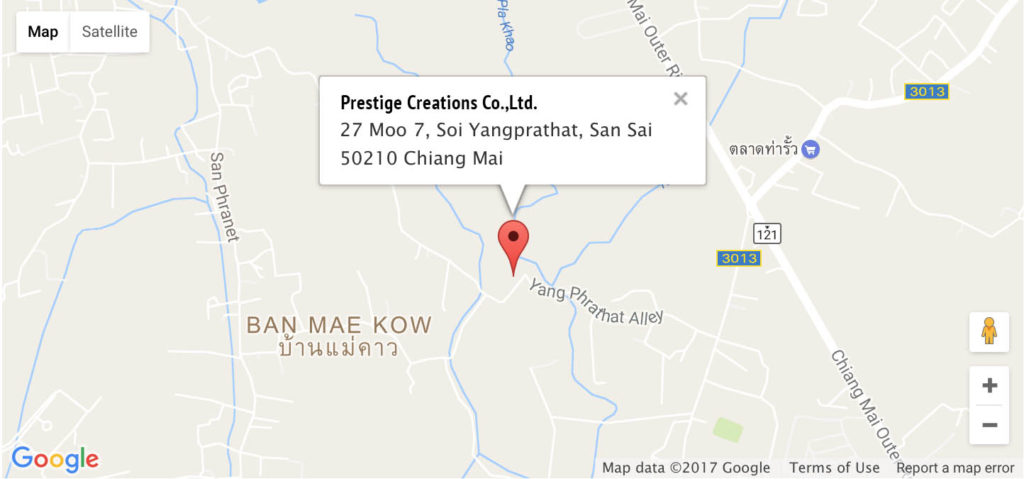 PRESTIGE CREATIONS CO.,LTD.
27 Moo 7, Soi Yangprathat, San Sai
50210 Chiang Mai
Please Feel Free to Contact Us!
Soi Yang Phrathat, 27 Mu 7, Chiang Mai, Sanpranet, San-Sai, Chiang Mai, 50210, Thailand
Opening Hours: Mo-Sa 8 AM – 12 & 1 PM – 5 PM (Sunday closed)
E-Mail: Click Here 
Phone: 66.86.0767574
Our Products
Since 2006, the WISSER Factory has been providing people around the world with an array of luxurious bags, silk invitation boxes and packaging options. We know that you put a lot of effort into what you send off to your friends and family, and we strive to ensure that is properly packaged to show off its true value. Among our collection of high quality products includes; hand-made silk invitation boxes, invitation folders, packaging, corporate gifts, textile bags, and a selection of high class home decor. Daily we are involved in the production of customized luxury packaging solutions for jewelry, that includes silk boxes, embellished paper boxes and drawstring bags. As a part of our services we are able to customize any products in our collection. Add your company logo for corporate gifts, embroidered images for a personal touch, and stamps of elegance for luxury invitations. When you are in the market for something entirely unique for your packaging needs, we have the ability to produce exactly what you have in mind. Inquire now
Our Commitment to Quality
Looks are not everything when it comes to making luxury boxes and bags. The product needs to feel luxurious and be durable. Our commitment to high quality has us searching the globe for textiles and embellishments that not only look great, but feel fabulous. Whether it be satin, silk, linen or lace, only high quality woven materials are ever placed onto and into our products. The craftsmanship of the bags and boxes are also important to us, and we take great pride in being able to manufacture products that last. Whether it be a hinged wedding invitation box, or a Thai silk bag, you know that the recipient will be able to enjoy its use for many years.
Our Amazing Embellishments
Not only are we capable of producing simple silk covered wedding invitation boxes at wholesale, we have perfected the art of embellishing them for any event. With the same eye for quality that goes into the initial construction of all of our products, we hand choose ribbons, broaches and jewel encrusted clasps to polish off the exquisite look of any of our boxes, envelopes and folios. Working with your idea of elegance, we add the trimmings that take your customized shipping needs to a higher level.
There is very good reason why we have become a global empire, serving clients in over 20 distinct countries. Among those are the United States, United Kingdom, Angola, Brazil, United Arab Emirates, Australia and South Africa. With a collection of products as breathtaking as ours, its no wonder we have caught the attention of royalty.
As our factory continues to grow and thrive, it is our mission to continually provide new and exquisite products to suit your shipping needs. If you are not able to find what you need on our pages, reach out to us and we will work hard to make it a reality for you. Inquire now